Improve data quality and increase user adoption
Ever wonder which of your Salesforce fields aren't used anymore or how many records actually have data in a specific field?
Field Analysis lets you analyze Salesforce fields to see the number, type, and usage of fields on any Salesforce object. You can even run detailed analysis on certain field content like picklists, numbers, emails, and owners.
Use the info to unclutter Salesforce page layouts, improve record completeness, eliminate skewing of reports, and further improve data quality.
Get a complete picture of your Salesforce org

Simply select an object and Cloudingo delivers a .csv report to use for analysis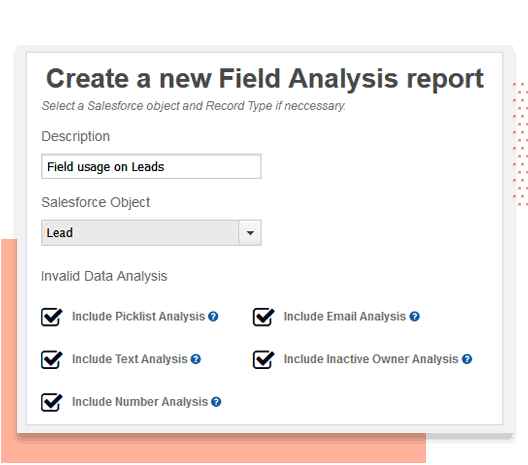 Quickly identify and evaluate fields

Run queries on standard and custom Salesforce objects to analyze field usage

See what percentage of records have a specific field populated across an object

Once the results are collected, use the info to unclutter page layouts and improve data quality
"Cloudingo is incredibly powerful. It has a ton of options and features, and still maintains its ease of use. They seem to have really thought of everything!"
Cody Cleary, Salesforce admin at ASM International


Find and report data automatically
No matter where your data comes from, Cloudingo can keep systems in line and eliminate the need to manually sync datasets to Salesforce.
Easily analyze Salesforce data and improve your data quality