Marketo is only as reliable as the data that's in it
The biggest problem Marketers face is duplicate records that enter Salesforce from Marketo and from multiple sources like manual entries, web-to-lead, list imports, and integrations. Those duplicates eventually make it to Salesforce, triggering assignment rules and workflows. Marketo automatically dedupes on email, but that's not enough.
The negative implications of duplicate records are plenty and often overlooked. For example, a prospect gets imported with a business email address. The same prospect also enters Marketo from a web form using a personal email address, which eventually makes it to Salesforce. Without deduping, the sales rep has an incomplete picture of the prospects activity, and what's worse, the prospect could get assigned to two different reps.
The effects of duplicate records trickle down to all aspects of your business.
Ruins your company's reputation

Hinders accurate reporting

Costs your company lost revenue
What's included with the Marketo and Cloudingo integration
Using flexible filtering, Cloudingo's Enterprise integration stops Marketo from creating duplicate records in Salesforce, keeping the two systems aligned.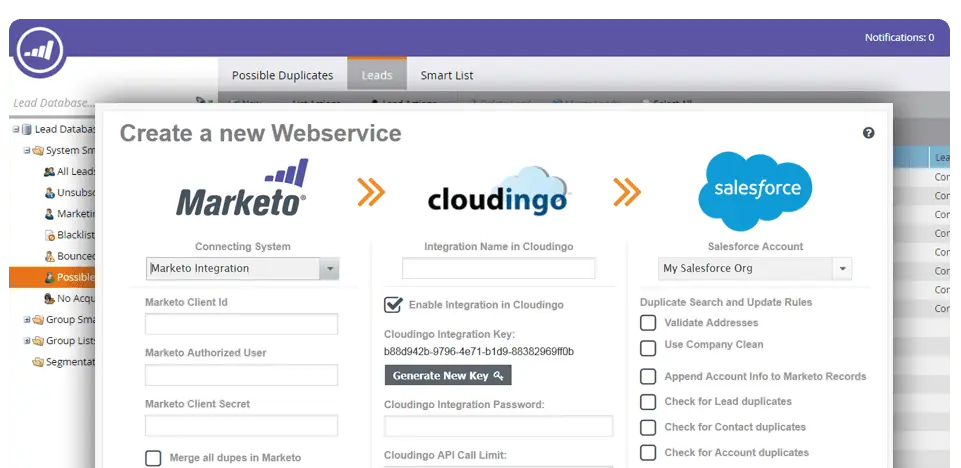 Using Marketo without Cloudingo
Without the Cloudingo integration, records that enter Marketo with different email addresses become duplicate records in both Marketo and Salesforce.

Using Marketo with Cloudingo
Cloudingo's Marketo integration provides you with the ability to compare records coming from or entering Marketo to Salesforce, merge them into a single record, and better manage your data. Prevent duplicates from entering Salesforce from Marketo, and sync the merged records back to Marketo.

Don't waste another minute. Sign up now and start improving your data.