Make quality decisions based on quality data
Cloudingo eliminates redundancies and consolidates data so that business decisions are based on facts, not hunches.
Update, transform, and standardize data making it actionable, more reliable, and easier to digest
Tie outside data sources to Salesforce, like ERPs and marketing automation systems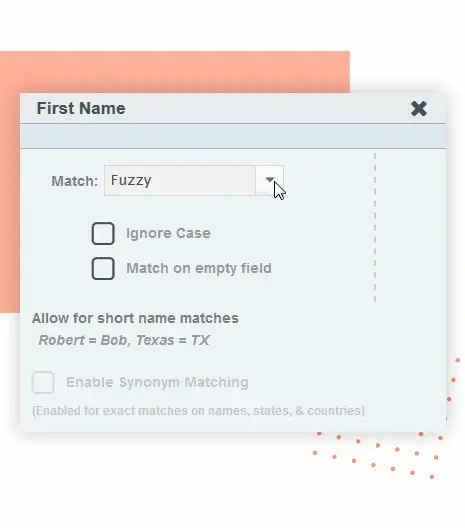 Easily catch dupes buried deep within your Salesforce org
Create filters, set the criteria, and sit back. Tell Cloudingo which records to look through, which fields to match on, and watch as Cloudingo hunts down dupes lurking in your org.
Dedupe standard and custom Salesforce objects using any combination of fields.

Choose from 10+ matching styles from exact to fuzzy to identify which records are duplicates of each other.

Use advanced algorithms to catch hard to find dupes, like Robert vs. Bob, and ACME Inc. vs. ACME Co.
Full control, because data cleansing isn't one-size fits all
Your data is unique and Cloudingo accommodates that. Create rules to tell Cloudingo how records should be merged, which record is the "survivor", and which field values trump all others.
Merge dupes into a single record. Various options give you flexibility to designate a master record that fits your needs.

Add granularity by deciding which field values carry over to the master, such as the highest or a prioritized value.


Take data cleansing a step further by standardizing fields, like text and phone formatting.