Data loading to Salesforce without duplicates
Cloudingo's Import Wizard matches records on import files with existing Leads, Contacts, and Accounts in Salesforce to ensure no duplicates enter your data, and existing records get updated when needed. Customizable and flexible filters give you control over which records to compare. Preview and edit records before pushing to Salesforce to ensure you get the results you want.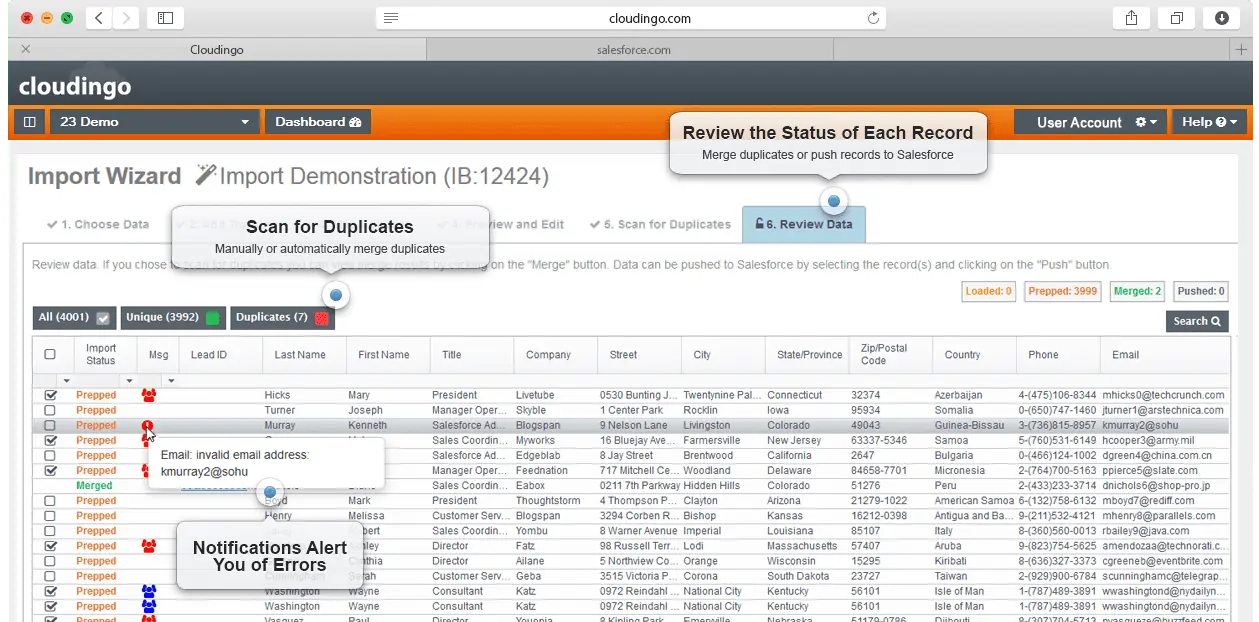 Included with Standard and Enterprise licenses

Clean, simple, easy-to-use interface makes importing a breeze
Import CSV or tab delimited files up to 10MB

Searchable knowledge base and top notch support team
Compatible with Windows or Mac – it's in the cloud!

Professional, Enterprise, and Unlimited editions of Salesforce
An All-in-One Data Cleansing Tool
Cloudingo digs deep to clean your Salesforce data however you'd like. And while removing duplicates in Salesforce is at the core of what Cloudingo does, there's a lot more to data cleansing.
The best way to really understand Cloudingo's data cleansing abilities is to test it out. Sample all of Cloudingo's features for 10 days – free!






Created with your data needs in mind
What's unique about Cloudingo is its ability to comb through Salesforce to find duplicated records while giving you the most flexibility and control, with the least headaches of any deduplication tool on the market. Developed with user feedback in mind, it's no wonder it's a favorite app among Salesforce users.